The global
crop protection chemicals market
size is estimated to be valued USD 63.7 billion in 2020 and is projected to reach a value of USD 74.1 billion by 2025, growing at a CAGR of 3.1% during the forecast period. The growth of this market is attributed to an increasing need for food security of the growing population.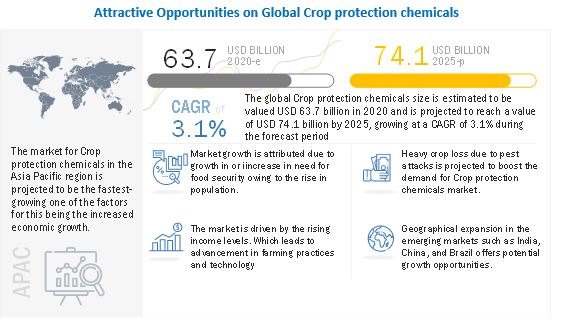 Key players in this market include BASF SE (Germany), Dupont (US), The Dow Chemicals Company (US), Syngenta AG (Switzerland), and Sumitomo Chemical Co., Ltd (Japan).
Mergers, acquisitions, and new product launches were the key strategies adopted by the leading players in the Crop protection chemicals with a view to improve their product line and presence in the market.
BASF SE, headquartered in Ludwigshafen, Germany, is a diversified chemical company founded in 1865. BASF is listed on stock exchanges in Frankfurt (Germany), London (UK), and Zurich (Switzerland).
The company has thirteen divisions grouped into six segments, namely, chemicals, performance products, functional materials and solutions, agricultural solutions, oil gas, and others. BASF's crop protection division is engaged in the research, development, production, and sales of crop protection products for the improvement of crop health and yield. In 2015, 26% of the total research and development expense was on agricultural solutions.
BASF operates globally through its subsidiaries in 80 countries with six Verbund sites, and 338 additional production sites such as BASF India (India) and BASF China (China). The major subsidiaries of the company are Wintershall Holding GmbH (Germany), Cognis (Germany), Engelhard Corporation (US), and BASF Plant Science (US).
The leading competitors of the company are Dupont (US), Bayer CropScience AG (Germany), The Dow Chemical Company (US), Syngenta AG (Switzerland), FMC Corporation (US), Nufarm Limited. (Australia), Sumitomo Chemicals Co. Ltd. (Japan), and Adama Agricultural Solutions Ltd. (Israel).
The Dow Chemicals Company is an American multinational chemical corporation company founded in 1897 and is headquartered in Michigan, US.
It operates through business segments such as performance plastics, performance materials, feedstock energy, coatings infrastructure solutions, electronic functional materials, and agricultural sciences. It markets its biologicals business under the agricultural sciences business segment through Dow AgroSciences LLC. The agricultural sciences segment offers crop protection and seed/plant biotechnology products and technologies, urban pest management solutions and healthy oils, insecticides, fungicides, herbicides, and seeds.
The Dow Chemical Company operates globally through its subsidiaries and has 197 production facilities in 36 countries. It offers products and solutions in over 160 countries. Its operations are spread across North America, Latin America, Europe, the Middle East, Africa, and the Asia-Pacific region.
Its major competitors are BASF SE (Germany), Syngenta AG (Switzerland), FMC Corporation (US), Bayer CropScience AG (Germany), Nufarm Limited. (Australia), Sumitomo Chemical Co., Ltd (Japan), and Adama Agricultural Solutions Ltd. (Israel).
Dupont, established in 1802, and headquartered at Delaware, provides science and technology-based products, materials, and services.
The company operates through the following business segments: agriculture, performance materials and safety protection, nutrition health, safety protection, electronics telecommunications, industrial biosciences, and others. It also serves the government and public sector in the sectors of service protection, energy and utilities, and others.
Dupont develops, produces, and markets a wide variety of crop protection and seed products in the global market. The agriculture segment of the company develops and markets products and services which offer better crop yield and productivity. The company has high focus on reducing its manufacturing costs to make the product prices competitive and has also initiated the use of biotechnology for better performance and high functionality of products.
Dupont operates globally in more than 90 countries covering its geographic presence across North America, Latin America, Europe, and Asia-Pacific. The company has established over 75 research development centers and 12 examining labs all over the world. For the crop protection sub-segment of Dupont, its major markets are production agriculture, feed industry, food industry, and energy industry.
South America is an emerging agricultural powerhouse, growing at a rapid pace above the global growth average. Growth in this region is significantly contributed by the growth in Brazil and Argentina, which are the world's most potent agricultural producers and are expected to grow well above the regional average. The economic growth in South America has been stimulated by democratization, economic reforms, and the foundation of the two trading blocs namely, Mercosur and the Andean Pact.
Regulatory framework in South America is quite weak as compared to North America and Europe. The South American Pesticide Action Network controls the regulatory issues in the region. The international trade system from the WTO for regional and bilateral trade deals also undermines national pesticide laws and threatens the ability of South American nations to prohibit dangerous chemicals from being used. This is especially observed in the case of WTOs demand for establishing certain common minimum standards for pesticides among countries. For instance, if a country wants to implement a stricter standard on pesticides as compared to the WTO, it could be recognized as a technical barrier to trade.